Serve – that's the mission
As a police officer and Army veteran, Amber Messer lived life on the frontlines at home and abroad in Iraq. She thought about deploying new ways to serve people throughout her career, but those thoughts didn't materialize until much later.
"I knew I didn't want to continue my career as a police officer because I had been military police for seven years," said Amber.
After exiting the military in 2013, she became a mother of two and worked as a caregiver to provide for her family. That experience helped her realize she wanted to pursue a healthcare career. So she enrolled in Drake State's Medical Assisting Technology (MAT) program.  
"I felt the care from each department," said Amber. "Whatever I needed, they were there. Someone at Drake State was always available to help."
During her time at Drake State, Amber balanced single-motherhood and her studies as a full-time student to complete her mission. She graduated with a MAT degree and certificates in phlebotomy and medical office administration in 2021.
Now Amber's back on the frontline, geared up in scrubs, and serving patients at Magnolia Primary Care in Huntsville.
"It's just been an amazing journey," said Amber.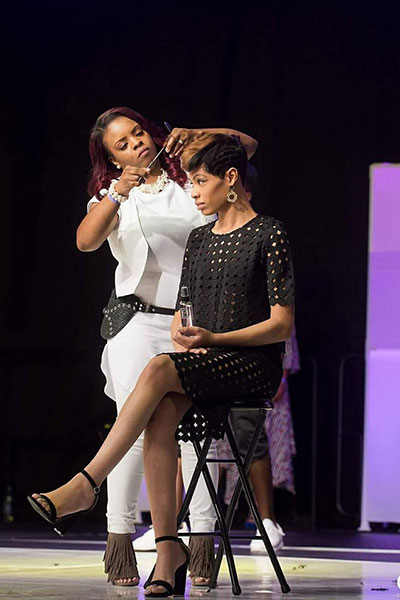 Cosmetology alumna Shannon McGlathery is a 36-year-old successful business owner who began her career with only a thought –
"I want to do hair."
McGlathery's desire inspired her to enroll in Drake State's Salon and Spa Management program, the only associate degree cosmetology program in Madison County.
"I set out to be one of the best cosmetology students so that I could be one of the best hairstylists," said McGlathery.
By the time she graduated in 2005, McGlathery experienced several hiccups while building clientele, becoming a cosmetology instructor, and finally managing her own salon.
"There will be times you want to give up – don't," said McGlathery. "There will be obstacles that get in your way – keep going. Know who you are and what you want in life and go for that."
McGlathery said naysayers tried to discourage her from pursuing a career in haircare.
"There will always be people who don't believe in you, but what they believe doesn't matter," said McGlathery. "I'm a success because even through hardships I didn't give up on myself."
McGlathery said her Barbering Instructor Ben Battle helped her get through some of those challenging moments.
"He was an amazing instructor and mentor," said McGlathery. "He was very detailed when he taught and was always encouraging."
After 15 years in the industry and 9 years as the salon owner of Divine Images, McGlathery said she's still doing what she loves most. She's been a commissioned stylist, booth rental stylist, salon manager, cosmetology instructor, mentor, and hair product line creator. 
"Drake State has played a pivotal role in shaping the foundation of my career," said McGlathery. "As I grew in the industry, I applied what I learned in the classroom. That's what helped me get as far as I have come."
Whatever career crosses your mind, McGlathery said, start there.
"Do not allow people to tell you that your visions and dreams are not worthy," said McGlathery.