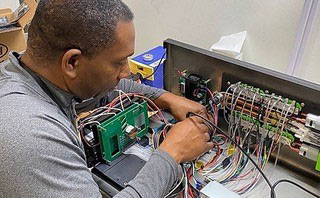 Drake State 1995 alumnus Roy Foreman used his love of baseball to score big in the electrical engineering field.
"Any goal is achievable. For a student athlete, use the sport as a pathway to greatness," said Foreman. "I had opportunities to play minor league ball, but my family didn't have the money to support me."
Foreman performed well as a high school student. College recruiters offered him baseball scholarships for his talent. When Foreman tabled the opportunity to play professional sports, his competitive spirit didn't transfer academically to Drake State. He nearly failed one semester.
"I only did enough to get by," said Foreman, "but I wanted to go to the next level so bad."
Former Electrical Technology instructor Bobby Petty would help Foreman keep his mind on his studies. "He saw me doing great things in the future," said Foreman.
One day, Petty tested Foreman's determination.
It was Industry Day. Foreman had to build his own digital thermometer. Petty picked up his project and dropped it to test its durability. Foreman's nervousness kicked in. He had to tweak his project before industry leaders visited his table.
"I made sure my projects wouldn't fail again," said Foreman. "Mr. Petty was a really good instructor. He cared about quality and it inspired me to pursue a four-year degree in electrical technology."
Foreman pursued his master's and spent decades specializing in rugged designs for the military because of Petty's instinctive approach to push Roy to the next level.
In 2012, Foreman received the Distinguished Engineer of the Year award at the National Society of Black Engineers Conference (NSBE). A year later, he earned the Industry Professional Achievement award at the annual Black Engineer of the Year Award (BEYA) STEM Global Competitiveness Conference.
"The real story to my success is that I love to help people."
Foreman started two businesses and sold his engineering firm after a decade in operation. While he assists the women's softball team at Alabama A&M University, he helps baseball and softball players improve their swing at his state-of-the-art hitting performance center. 
Foreman said it's a full circle moment.