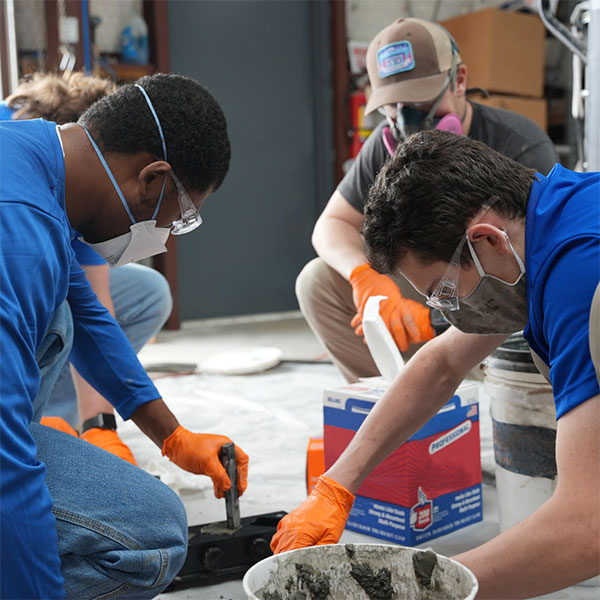 Two Drake State students have earned an out-of-this-world opportunity.
Engineering Design students Jaiden Mason and Josh Driskill are part of the new Frontiers Research Program at Drake State Community & Technical College. They were selected to help NASA Marshall Space Flight Center construct a potential habitat on the moon by 2024.
Mason and Driskill work with materials that are similar to resources found on the moon to develop construction techniques, but these interns are not strangers to the design world.
Get to know the interns
"I'm excited about space exploration because I am interested in physics and science," said Driskill. "Space travel improves our understanding of both."
In 2018, Driskill assembled his first 3D printer by himself. His design techniques will help him and Mason develop 3D-printed structures that have the strength and durability to survive in space.
"I hope to learn everything that this internship has to offer," said Mason. "This research will be essential with the expedition to Mars, and I know this opportunity will impact our future success in this career field."
Both Mason and Driskill credit their instructors for preparing them for this opportunity.
"Drake State really cares about the success of their students," said Mason.
"My teacher, Mr. Grissim, mentioned the internship to me and encouraged me to apply," said Driskill. "I have been excited about space and 3D printing for a long time and this opportunity was an excellent mix of both of those interests."
Bob Grissim is the Principal Investigator for the Frontiers Research Program. He tracks Mason and Driskill's progress.
"I'm very curious to see how it will come along in the end," said Mason, "if these plans will actually be carried out in the expedition to Mars."
Watch them land successfully in STEM careers
Mason said this research experience will be a gem on his resume and "a great learning experience" to step into the STEM field.
Driskill said the new Frontiers Research Program gives him the kind of exposure he otherwise would not have on his own. He wants to study aerospace engineering once he completes his studies at Drake State.  
"This program will make future space exploration safer and more cost effective," said Josh. 
Mason and Driskill spent the year researching space construction techniques on the moon thanks to a Cooperative Agreement Notice (CAN) from NASA.  Drake State became the first and only Historically Black Community College (HBCU) to receive a CAN from NASA's Minority University Research and Education Project (MUREP).
They plan to continue studying engineering at the University of Alabama in Huntsville and Alabama A&M University, respectively.
Two new interns will pick up where Driskill and Mason left off at Drake State.